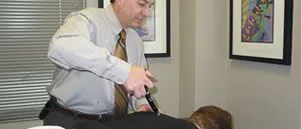 Our office specializes in the modern, low-force technique called Activator Methods which does not involve any manual force or popping of the joints. We treat a wide variety of problems including sports injuries, automobile accidents and spinal conditions. We offer various types of therapy, including low level laser, massage therapy, acupuncture, and rehabilitation.
What is Chiropractic?
Chiropractic is the branch of health care that focuses on the spinal column and its relationship to a properly functioning nervous system. The spine protects the spinal cord and nerve roots so the brain can properly relay messages to different parts of the body. However, a vertebra can lose normal motion or position through physical, emotional, or chemical stresses on the body. This can affect proper nerve function, causing a variety of symptoms such as pain, numbness, tingling and muscle aching. This condition is known as the 'Vertebral Subluxation Complex', or simply 'Subluxation'.
Chiropractors restore proper spinal motion through the Chiropractic adjustment, which consists of physically moving the vertebra back into position. At LionsGate Chiropractic Center for Wellness we use the Activator Methods Technique, which involves using a hand held, spring loaded instrument to perform the adjustment. It is gentle, very effective and the patient does not hear any "cracking or popping". Once the nerve interference is removed, the body can begin to function normally again.
Activator is one of the most well-researched techniques in Chiropractic.

Who Needs a Chiropractor?
The modern world can place a variety of stress on a person's body. Whether it being old accidents or injuries, everyday wear and tear, poor posture, poor nutritional habits, emotional stress, or sitting in front of a computer all day, your body is constantly being bombarded by external forces that can have an adverse effect on your health! From newborns to seniors, anyone with a spine should be checked for Vertebral Subluxations.
Chiropractic can help a variety of conditions including headaches, neck pain, low back pain, carpal tunnel syndrome, whiplash, disc problems and much more. Some patients just come in for wellness care.