Lionsgate Chiropractic is proud to serve the Johnson County area not only with outstanding Chiropractic care, but also with professional massage therapy. We offer many different types of massage. So whether you need some stress relief from the daily grind or need to reduce pain and muscle spasm following an injury, Lionsgate Chiropractic can help. We offer extended massage hours for your convenience. Gift certificates and monthly massage memberships (no contract) are also available.
---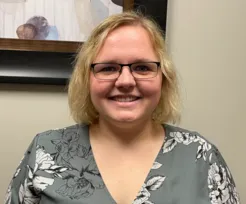 Melody is our licensed massage therapist on staff. Many people choose to make massage therapy part of their healthy lifestyle to help relieve pain, increase circulation and to reduce muscle tension and inflammation in the body. Melody is trained in a variety of massage techniques and believes that massage is a wonderful compliment to Chiropractic care.
FAQ's:
What do I wear?
You will change in the massage room and may undress to your comfort level. You will be draped with a sheet during the massage. The therapist will only undrape areas that are being worked on.
What if I am uncomfortable during my massage?
Just let the therapist know if you are too hot or cold, if the massage is too hard or soft, or if you are uncomfortable in any way. We want you to be able to relax and enjoy your massage.
Can I get a massage if I am pregnant?
Yes. Massage is safe and effective, usually performed in the second and third trimesters, helping with neck and back pain, stress, and swelling.
Can I get a massage if I've been in an automobile accident?
Yes. Massage therapy goes well with chiropractic care in reducing pain and muscle spasm following an accident.
What is your cancellation policy?
We require 24 hours notice for massage cancellations or you will be charged for the session.

Fee Schedule:
60 Minutes $80
90 Minutes $115 (for stone massage, add $15)
2 Hour $145 (for stone massage, add $15)
Gift Certificates are available for over the phone or in-person purchase. This is a perfect gift for birthdays, holidays or just to say thank you! We also offer monthly massage memberships (no contract) and deals on massage packages!
Massages are available Monday through Saturday! Simply call (913) 814-9494 for available times.
Types of Massage Therapy We Offer Include:
Neuromuscular/Trigger Point Therapy - uses pressure on specific myofascial points to release contracted tissue and relieve pain.
Deep Tissue - releases chronic patterns of tension in the body through slow strokes and deep finger pressure on contracted areas.
Swedish Massage - one of the most common types of massage. It consists of long strokes, kneading, friction and percussive and vibration techniques on the superficial layers of muscles, combined with active and passive movements of the joints. This is very relaxing and improves circulation, range of motion and relieves tension.
Hot Stone Massage - in this 90 minute session, heated basalt stones are incorporated into the massage to enhance relaxation. The heat that radiates from the stones promotes greater stress relief by penetrating deep into the muscles.
Sports Massage - enhances body performance, recovery and management of acute and chronic injuries.
Pre/Postnatal Massage -

is a safe massage for pregnant women to help reduce pain and relieve stress.